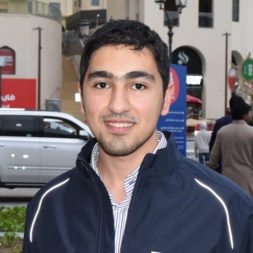 Osama Bushnaq
PhD student at KAUST, Aug 2015 – Present
PhD candidate King Abdullah University of Science and Technology
M.Eng. in Electrical and Computer Engineering, University of New Brunswick, Sep. 2013- Dec. 2014, Fredericton, NB, Canada.
B.Sc. in Communications Engineering, Princess Sumaya University for Technology, Sep. 2007- Jan. 2012, Amman, Jordan.
Statistical Signal Processing
Wireless Sensor Networks
Integer Programming
Wireless Communication
Unmanned Aerial Vehicles
Information Theory
O. M. Bushnaq, A. Chaaban and T. Al-Naffouri, "Joint sensor location/power rating optimization for temporally-correlated source estimation," 2017 IEEE 18th International Workshop on Signal Processing Advances in Wireless Communications (SPAWC), Sapporo, pp. 1-5, Jun. 2017.
O. M. Bushnaq, T. Y. Al-Naffouri, S. P. Chepuri, and G. Leus, "Joint sensor placement and power rating selection in energy harvesting wireless sensor networks", 2017 25th European Signal Processing Conference (EUSIPCO), pp.2423-2427, Aug. 2017.
O. M. Bushnaq, A. Celik, H. ElSawy, M. Alouini and T. Y. Al-Naffouri, "Aerial Data Aggregation in IoT Networks: Hovering & Traveling Time Dilemma", 2018 IEEE Global Communications Conference (GLOBECOM), Dec. 2018.